This is the nation's first gold medal win at the Culinary Olympics
A story to share with you. This story was originally published on http://m.todayonline.com/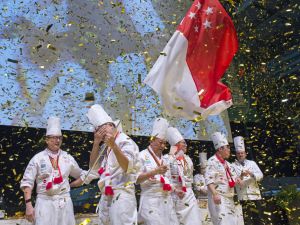 The national team of Singapore celebrates with a flag after winning the Olympic gold medal during the medal ceremony of the International Exhibition of Culinary Art, IKA, also known as the Culinary Olympics in Erfurt, Germany, Oct 26, 2016. Photo: AP
SINGAPORE — It may not be as widely celebrated as Schooling's achievement at the Rio Olympics, but proud food lovers here will be equally proud to know that the Singapore National Culinary Team has just been crowned on Wednesday night (Oct 26) the overall champion of the Culinary Olympics 2016, scoring double gold for its Cold Display and Hot Cooking categories.
The Culinary Olympics is one of the most prestigious international culinary competitions in the world. Held in Erfurt, Germany every four years, this year's edition saw 30 of the world's top national teams participating.
And while the Singapore National Culinary Team has earned a stellar reputation in international culinary competitions, this is the first time it has won the championship.
The team was led by Chef Louis Tay, executive chef at Swissotel Merchant Court, who recently led a different team when they clinched the championship title for the third time at the Culinary World Cup in Luxembourg. The handpicked team for this year's Culinary Olympics is made up of Team Captain Teo Yeow Siang (Lavish Catering) and members Triston Fang (Ocean Restaurant by Cat Cora, Resorts World Sentosa), Alan Wong (Lavish Catering), Roy Lim (Unilever Food Solutions) and pastry chef Alex Chong (Regent Hotel).
"It has been a very intense period for us as a culinary competition of this level is both emotionally and physically intense," said Tay. "The team has sacrificed a lot of time and sleep." He also thanked the Singapore Chefs' Association and their sponsors for their support, and expressed the team's gratefulness for their mentors', whom he said "have also spent a lot of time walking this journey with us, refining our dishes so we can reach perfection".