We share our latest read with you. This story was originally published on http://www.self.com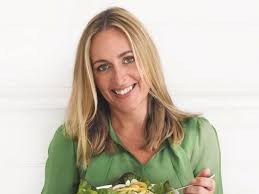 Instagram.com/AmeliaFreer
Victoria Beckham recently raved that nutritionist Amelia Freer taught her a lot about food, and now Freer is sharing what she eats in a day. In a recent interview, Freer revealed that she uses fruit as a natural sweetener, is a big fan of leftovers, and she makes it a point to load up on vegetables throughout the day.
In fact, Freer tells the Daily Mail that when she plans out her meals, she starts by focusing on the vegetables (even at breakfast) and then adds in a portion of protein and some healthy fats.
For breakfast, she loves a hearty combination of sautéed onions, tomatoes, and spinach along with two eggs, some avocado, and oatcakes (basically crackers made of oatmeal), plus coffee and fruit. When it comes to lunch, Freer often relies on vegetable-based leftovers like ratatouille or salad, plus some protein, fruit, and soup. Depending on whether she's exercised that day, she'll add in some whole grains for carb-based fuel. As for dinner, Freer will often have a vegetable-loaded curry, soup, or stew, proving that getting your produce fix can still delight your tastebuds. Here she is, wearing a very fitting green blouse with a plate full of veggies:
Freer has earned a big celebrity following thanks to her methods. James Corden told the Daily Mail she helped him lose weight, and singer Sam Smith posted a glowing note about Freer on Instagram in March, posing with a copy of her book, Eat. Nourish. Glow., and writing, "Amelia Freer has helped me lose over a stone [14 pounds] in two weeks and has completely transformed my relationship with food. It's not even about weight loss, it's about feeling happy in yourself. Love you Amelia & thank you for making me feel so happy inside and out."
Experts are also fans of her vegetable philosophy. Alissa Rumsey, M.S., RD., spokesperson for the Academy of Nutrition and Dietetics, tells SELF that focusing on vegetables first is a "great idea," especially since most people don't eat enough of them. According to the United States Department of Agriculture, women aged 19 to 50 should strive to eat 2½ cups of vegetables daily. However, research published by the Centers for Disease Control and Prevention in 2015 revealed that 87 percent of adults don't eat enough vegetables every day.
"By planning each meal around vegetables, you ensure that you are getting at least one serving at each meal," Rumsey says, noting that many people haven't eaten any vegetables by dinnertime, which makes the recommended 2½ cups difficult to cram in. "By spreading your vegetables throughout the day, it will be easier to meet your needs."
Karen Ansel, M.S., R.D.N., co-author of Healthy in a Hurry: Easy, Good-For-You Recipes for Every Meal of the Day, agrees, telling SELF that "planning your meals around vegetables is one of the healthiest diet moves you can make."
Vegetables are packed with vitamins, minerals, antioxidants, and fiber, a nutrient that fills you up, but that most people also don't get enough of, Ansel says. Vegetables also tend to be low in energy density, meaning that you can eat a lot of them for very few calories, she points out. "That can help dilute the calorie count of your plate, allowing you to eat a hefty portion of food for fewer calories," she explains. "That's a big plus if you're trying to lose weight because it can help you cut calories and stay full at the same time, which isn't always easy."
Gina Keatley, a C.D.N. practicing in New York City, tells SELF that making vegetables a priority in your meal planning is "setting yourself up for success in losing weight." "Satiety is a key to not overeating later in the day, and vegetables can help you achieve this," she adds.
Produce can be expensive, but if you plan your meals ahead of time instead of ordering out, this lifestyle can actually save you money, Samuel Accardi, R.D., L.D.N., lead dietitian for the Charge Group, tells SELF. To relieve your wallet even more, he recommends buying vegetables that are on sale and working your meals around those. "Not only does this method help save money, but it also guarantees a variety," he says.
While you could try Freer's lifestyle by adding one vegetable, like spinach, to every meal, Rumsey says it's better to get a variety of vegetables. "Different vegetables have different vitamins and minerals present, so the more types that you eat, the more well-rounded your nutrient intake will be," she says. Rumsey recommends choosing as many colors as possible and experimenting with different veggies: "Your plate should be beautiful. If you're looking at your plate and everything is brown or white, then there is a problem." Ansel agrees. "Each of the pigments responsible for these colors provides a different health benefit, so you'll get the biggest health bump by eating as many colors as you can," she says.
Not sure where to start? You can chop vegetables up to get them on your plate ASAP, throw some into a sauce, or make a huge salad. You can also use frozen vegetables if you're in a pinch. "Just make sure there are not additives in the ingredients," Accardi says.
Of course, it helps if you actually like eating veggies. Not a huge fan? Try roasting them. That helps bring out their natural sweetness, Rumsey says. Here, some other tasty ways to make eating vegetables so much easier.